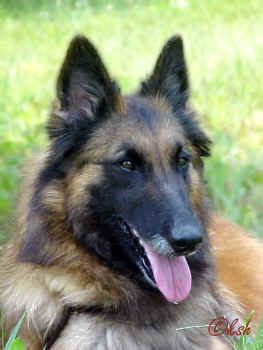 Marissa at 4 yrs of age
Photo by Kelley Hoffman
Marissa was imported from Sweden as a puppy from Carina Tolge-Bergkvist and Rolf Bergkvist of Kennel Mahagonny. She was the most adorable, friendly, outgoing pup imaginable and she quickly stole our hearts. Marissa will always be my special girl here at BasqueLaine.
Marissa was a happy fun-loving dog who enjoyed nothing better than the company of people. She was totally loyal and devoted to our entire family. To visitors/strangers at home or away from home she envisioned herself as "Miss Congeniality".
Marissa was a real thinker and problem solver and could sometimes be quite mischevous and manipulative in getting her way. When not at play Marissa was very calm and loving. Laps were much preferred to the floor. Marissa got along famously with other dogs and cats. She adored children of all ages and sizes and was the unanimous favorite amongst our kids and our grandkids Kayl and Will.
Marissa had a couple of amusing quirky behaviors she often passed on to her offspring and down the line. She really loved hanging out under the bed. That was her den. We called it the bat cave. Marissa rather enjoyed a game of "alligator snaps out of the water" from under the bed if anyone dared to encroach on her territory.;-) Marissa had many kids and grandkids who have this under-the-bed gene as well. Marissa was also a smiler, and she often passed that along too.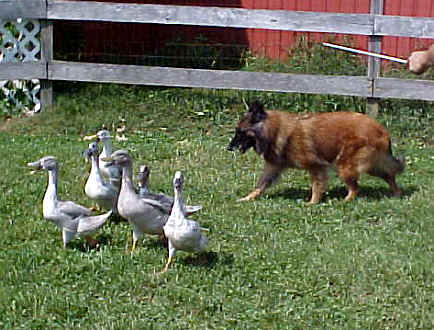 Marissa's first time on ducks at 7 yrs of age
Photo by Kelley Hoffman
Marissa was a petite 21" in height of bone and substance commensurate with her size. She was very feminine with lovely breed type and vibrant red color. Marissa had a deep scissors bite. She was balanced with good angulation front and rear and was very compact and closely coupled. Marissa's strong suit was as a brood bitch. She was always been an awesome mother with her puppies. She had a very natural instinctive style of rearing her puppies. She moved them around a lot in her mouth, liked to count and arrange them to suit her fancy. When it came time to wean she actually regurgitated food for her puppies. (That was my cue to start weaning). She continued to be interested in her puppies after they were weaned, including teaching them things, and disciplining them at the appropriate ages -- building up the confidence of the more submissive pups in the pack and reminding the more dominant pups they couldn't pick on the softer ones. ;-)
Marissa consistently produced better than herself in structure, refined type a little when bred to more moderate type males, so we almost always got beautiful heads and expressions out of Marissa whether more moderate in type or more refined in type. She consistently produced an extremely low percentage of any health issues whatsoever, and routinely produced awesome temperaments suitable for a variety of working/performance venues. She especially produced some truly awesome agility offspring for the serious weekend warrior. The body type, size, muscle mass, athleticism, and drives and intelligence she produced bring a tremendous potential for speed, usually typically accompanied by a "daredevil" attitude.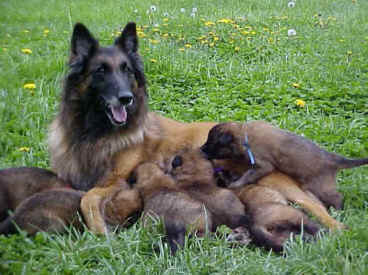 Marissa at 5 yrs of age with the V Litter, Ronin on top (blue ribbon)
Photo by Kelley Hoffman
Marissa tended to produce offspring in the lower end of the size range both males and females. Her sons are typically between 23"-25" at maturity, her daughters are typically 21-22.5" at maturity. She did occasionally produce taller or shorter than that depending on the mate, but not often.
Marissa's oldest litter the Spies'n Heroes were the first to prove Marissa's worth as an outstanding agility/performance producer.
So far two of the Spies have accomplished both MACH and ADCH agility championships, an invitation to the Purina Incredible Dog Challenge, Final Round in the AKC Agiity Invitational 2007, and respectable placements at AKC National Agility 2007.
In addition to agility, the Spies are also titled in Rally, Dock Diving, Water Rescue, as well as some being therapy certified. Marissa also has several younger offspring, grandget, great grandget, and great great grandget training and/or titlled in agility, rally, obedience, herding, flyball, tracking and Search and Rescue.

Marissa is the dam of:
Spies'n Heroes litter including: Conner, Hero, Maxwell, Merlin, Scully, and Sly.

T Litter i4ncluding: Rigel, Jo, Nicky, Ciara; Snoop, and Savannah.

V Litter including Kruiser, Ronin, Anubis, Lacey, Rosie, and Viggo.

Run for the Roses Litter including Quest, Bandit, Kacey, Marie, Flair, and Chloe.

Gangsters Litter including Mr. Big, Tough Guy, Louie, Vinnie, and Lefty.

Serendipity Litter including Mariah, Titan, Wyzzy, Phoenix, Cali, Remi
As a general rule we do not typically breed our (solely owned) girls this frequently, but Marissa is very special, and she produces so well in working/performance ability, general temperament/demeanor, health, and looks, it's simply justified as part of our future plans and
direction of our breeding program. After all my years in Belgians Marissa remains my favorite, mainly because of her awesome temperament and the athleticism, speed, drives, and stability she produces in her offspring. Eventually the cornerstone and foundation of my entire breeding program will be centered around Marissa, so I want as many offspring of hers and lines to her as 9possible to move on with over the next several years. She also has an exceptional track record with her offsprings' health, which is sometimes hard to come by in a key breeding candidate.